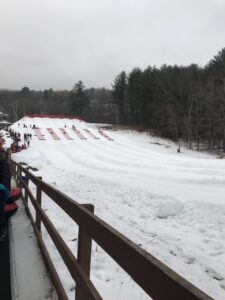 McIntyre Ski Area is a small but popular ski resort located in the city of Manchester, New Hampshire. While it may not offer the massive slopes and expansive terrain of some larger ski resorts, it has developed a loyal following among locals and visitors looking for a convenient and affordable skiing experience.
One of the key selling points of McIntyre Ski Area is its location. It is situated just minutes from downtown Manchester, making it easily accessible for those living in the city or the surrounding areas. This proximity is particularly attractive for families, who may not want to drive several hours to reach a larger ski resort.
Despite its small size, McIntyre Ski Area offers a decent amount of variety in its skiing and snowboarding options. It has a vertical drop of 300 feet (91 meters), which is respectable for a resort of its size. There are 9 ski trails in total, ranging from beginner to intermediate difficulty. There is also a terrain park for snowboarders and freestyle skiers, with features like rails, boxes, and jumps.
Another popular activity at McIntyre Ski Area is snow tubing. The resort has several tubing lanes, which are a hit with kids and adults alike. It's a great option for those who want to enjoy the winter weather but may not be interested in skiing or snowboarding.
For those new to skiing or snowboarding, McIntyre Ski Area offers lessons with certified instructors. The lessons cover basic skills like stopping and turning, as well as more advanced techniques for those looking to take their skiing or snowboarding to the next level. Private lessons are also available for those who prefer one-on-one instruction.
In terms of amenities, McIntyre Ski Area has a cozy lodge with a fireplace, where skiers and snowboarders can warm up and enjoy a hot meal or snack. There is also a rental shop on-site, where visitors can rent skis, snowboards, boots, and helmets.
Overall, McIntyre Ski Area may not offer the same level of excitement or variety as larger ski resorts, but it has its own unique charm and appeal. Its convenient location, affordable prices, and variety of activities make it a great option for families and anyone looking for a fun day out in the winter.