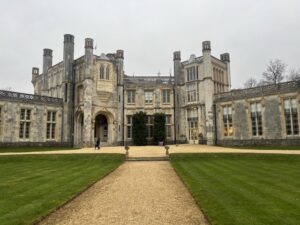 Highcliffe Castle is a stunning Grade I listed mansion located on the picturesque coast of Dorset, England. Built in the 1830s by the architect William Donthorne for Charles Stuart, 1st Baron Stuart de Rothesay, the castle stands as a stunning example of the Romantic and Gothic Revival architectural styles.
The castle is set within 14 acres of beautiful gardens and woodlands, which overlook the stunning coastline of Christchurch Bay. The views from the castle are truly breathtaking, with the Isle of Wight visible on clear days. Visitors can take a stroll through the gardens, enjoying the fragrant blooms and listening to the birdsong, before exploring the castle's many rooms and galleries.
One of the most striking features of Highcliffe Castle is its imposing entrance hall, with its grand staircase, ornate plasterwork, and stunning stained glass windows. The castle's many rooms are filled with an array of impressive antiques, artworks, and furnishings, which provide a glimpse into the lives of the castle's former owners.
The castle's history is just as fascinating as its architecture and design. Over the years, it has been home to a number of influential and prominent figures, including the self-made millionaire Harry Gordon Selfridge, who purchased the castle in 1916. During World War II, the castle was used as a base for the Royal Air Force and was subsequently damaged by bombing in 1943.
After the war, the castle fell into disrepair and was eventually purchased by Christchurch Borough Council in the 1950s. It was subsequently restored and opened to the public, becoming a popular tourist destination and wedding venue.
Today, Highcliffe Castle remains one of the most impressive and well-preserved examples of Romantic and Gothic Revival architecture in the UK. Its stunning location, rich history, and impressive collection of art and antiques make it a must-visit destination for anyone with an interest in architecture, history, or art.
Visitors can explore the castle's many rooms and galleries, take a stroll through the gardens, or enjoy a cup of tea and a slice of cake in the castle's charming tea room. The castle is also a popular venue for weddings and events, with its beautiful gardens and historic architecture providing a stunning backdrop for any occasion.
Highcliffe Castle is a truly remarkable attraction that offers visitors the chance to step back in time and experience the grandeur and opulence of a bygone era. Whether you are a history buff, an architecture enthusiast, or simply looking for a beautiful place to relax and unwind, Highcliffe Castle is a must-visit destination in Dorset.